These cookies are light and summery in flavour, and are simple to make. The only issue is managing to keep my daughters off the cookie dough, as sometimes I think they eat more of it as dough than they do cooked.

Preheat the oven to 170C/300F/gas mark 3 and gather your ingredients.
For these cookies you will need:
225g/ 8oz caster sugar
300g/10oz plain flour (sifted)
200g/7oz butter, melted
1tsp vanilla extract
1tsp of baking powder
A pinch of salt
1 egg
200g peach and raspberry chocolate (2 of our 100gm bars) chopped into small pieces.
Step 1
Take the melted butter (I always melt it in the microwave, just keeping an eye to make sure I don't over do it) and sugar  in a bowl and mix together – just using a spoon is fine, no need for a whisk.
Step 2
Sift the flour, baking powder, vanilla (if using vanilla paste, just reduce the paste to a smaller amount) and salt together and add to the sugar and butter mixture. Add the chocolate chips at this stage if you're making chocolate chip cookies.
Step 3
Mix together until you have a dough like consistency, add the egg and knead using your hand again. You may need to operate a hands off approach here, as it never fails to amaze me just how popular the cookie dough is with my daughters!
Step 4
Roll pieces of the dough into a small ball, (they will spread out during cooking) I like to use  small icecream scoop to get a more even size, but it doesn't matter, place on a plate and then put into the fridge. Personally I like to leave them in the fridge for at least a couple of hours to go very firm, but you don't have to. You can also cover in cling film and pop into the freezer for half an hour. I think leaving them to firm up helps them retain a better shape during cooking, but if you can't wait, it really won't spoil the cookies.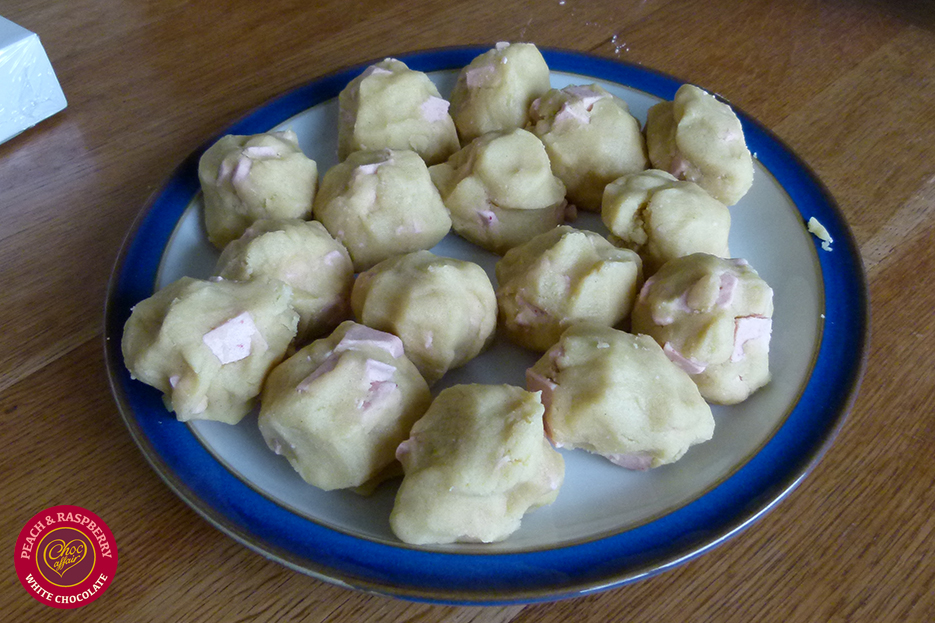 Step 5
Pop them on a baking tray on top of baking paper, and make sure they have plenty of room so they don't melt into one large cookie!
Step 6
Into the oven and bake for 10 – 12 mins, until the edges are a little golden.
Step 7
Leave on the tray for a few minutes then transfer using a spatula to a wire rack. This may not be a necessary stage, as often in our house they don't get to the stage of being transferred, as they are taken off the tray and eaten whilst still warm.
Remember, you don't need to worry if you don't have the Peach & Raspberry chocolate in the cupboard, you can replace the Peach & Raspberry with any of our delicious flavoured bars that you have handy.