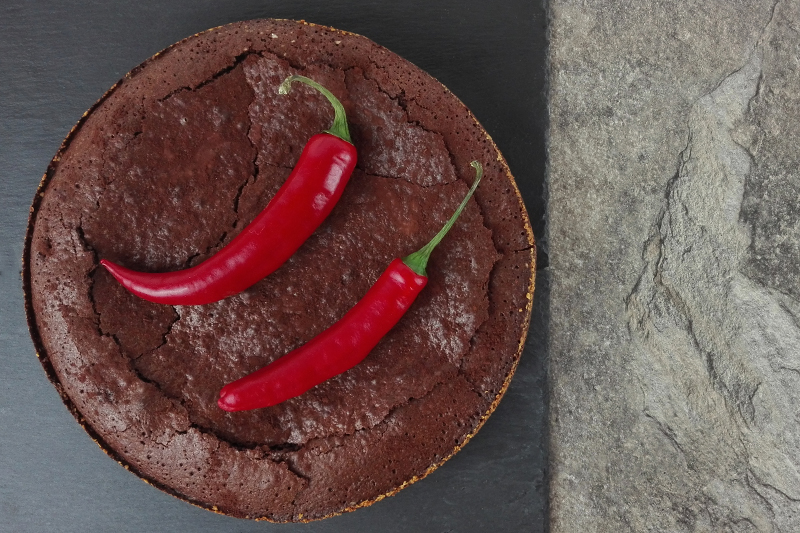 This Dark Chilli chocolate mousse cake is quick, easy, and has a real warmth to it! Perfect for all those Chilli lovers!
.
When discovering the original recipe by Green & Black's, I just knew I had to try it with our Chilli chocolate! This recipe is incredibly easy to make, and with the Dark Chilli chocolate it's a delicious cake for all those chilli lovers!
.
For our Dark Chilli Chocolate Mousse Cake, you will need:
3 Dark Chilli chocolate 100g bars
275g Caster Sugar
165g Unsalted Butter
Pinch of Sea Salt
5 Large Free Range Eggs
Icing Sugar
1 Tablespoon Ground Almonds plus extra for dusting the tin
.
Preheat the oven to 180ºC/350ºF/Gas Mark 4 and gather your ingredients.
.
Step 1
Take the butter and dust a cake tin (this recipe works best with a tin with a removable base).
Step 2
Add the caster sugar, butter, chocolate and pinch of salt into a bowl over barely simmering water and allow to melt.
Step 3
Next whisk the eggs with the ground almonds.
Step 4
Removing the bowl from the heat, gentle pour in the egg and ground almonds mixture and fold it into the chocolate mixture with a spatula.
Step 5
Pour the mixture into the cake tin and pop in the over for 35 – 40 minutes.
Step 6
Once perfect, remove from oven and allow to cool. Decorate with a hint of icing sugar, and fresh Chilli's if you're feeling dangerous!
Our serving suggestion is to serve with a generous dollop of vanilla ice cream!
.
Remember, you don't need to worry if you don't have the Dark Chilli chocolate in the cupboard, you can replace it with any of our delicious flavoured bars that you have handy.
Let us know how your Choc affair Dark Chilli Chocolate Mousse Cake went at /ChocAffair, @ChocAffairUK or at choc.affair.